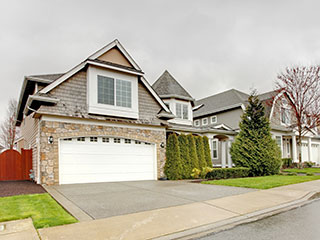 We believe in dedication, which is why we are meticulous when it comes to repairing garage door systems and their various parts. We put the same emphasis into our installation services, and always strive to make sure you are completely satisfied with the work we perform. That's why we've become renowned for being one of the best service providers in all of Illinois.
Malfunctioning Opener Repair
If your garage door opener is refusing to operate properly, our experts can help. Whether it's a worn-out motor gear that needs to be replaced or some part of the circuit board that needs to be repaired, we can perform the necessary work and make sure your unit is fully operational again.
Broken Spring Replacement
Garage door springs are some of the most important parts of your system. Unfortunately, due to their purpose – supporting the weight of the heavy door panels – they are also the most dangerous parts. You should never attempt to handle them by yourself, as special tools and professional training is required to perform any necessary procedure safely. If your springs break, or need to be adjusted or replaced, give our experts a call right away.
New Garage Door Installation
When homeowners decide they want to buy a new garage door, the wide selection of models to choose from can be daunting. Not to worry. You don't have to go about it alone. Our experts can help you choose the best material for your local weather conditions, and will consult you on various safety and security features that may be worth considering as well. Once you've made a decision, we'll get the entire system installed to perfection.
Seek Professional Assistance
No matter how confident you are about your DIY repair skills, garage doors are not the type of systems you want to take any risks with. Our professional technicians at Garage Door Repair River Forest can help you deal with any spring or opener related issue, and will gladly consult you on a plethora of different topics.
Call Us Today:
Professional Maintenance Services
Fully Dedicated Technicians