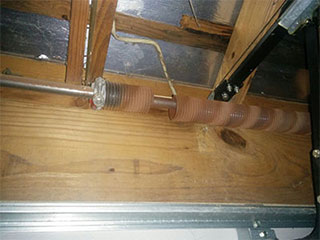 Your garage springs represent one of the most important parts of the whole system. Without them, your door will be unable to function. These essential components are subject to enormous strain each and every day and with a limited lifespan, at some point they will need to be replaced or repaired.
When to Replace or Repair
A typical household might use their garage a minimum of a thousand times each year. It's no surprise then that the springs, which are doing the majority of the work each time you open or close your door, will eventually begin to wear out. A clear warning sign that they might be beginning to fail is a wobbly, noisy or weak door. If you notice any of these symptoms, it's a good sign that your door system need to be examined by a trained professional.
Arranging a Replacement
It can be tempting for homeowners to attempt to carry out spring repairs themselves. However, this is not a suitable job for untrained hands. The tension contained in these parts can be so intense that it becomes extremely dangerous if this energy is not properly and safely released. We strongly advise that no homeowners attempt to disconnect or replace their springs themselves, stay safe and contact our trained garage door repair professionals instead.
Finding a Replacement
If your door springs need to be replaced, they've likely already been at work for many years. As a result, newer, more modern versions could represent significant upgrades. Our range benefits from modern advancements in durability, corrosion resistance and reliability, meaning that your replacement parts should be an investment well spent.
Repair and Replacement Services
If your door springs aren't up to scratch, they may well be in need of replacement. It's always better to be sure, so contact our professionals at Garage Door Repair River Forest to arrange a professional inspection of your door as soon as possible - we're always happy to lend a hand.
But wait, there's more! We also offer:
Maintenance Garage Door Torsion Spring
Door Opener Troubleshooting Services
Broken Garage Door Spring Replacement
Broken Garage Door Track Repair