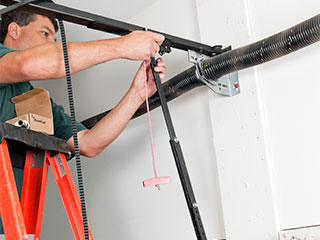 As a leading service provider of garage door repair services, our team has truly seen and fixed practically every possible type of problem you may encounter. We can help you deal with any situation, and offer you fast and effective solutions.
Broken Spring Replacement
When dealing with a broken spring, you most likely find that your garage door cannot be opened at all, whether it's with the opener or manually. In fact, making any attempts to open it before the damaged component has been replaced can be dangerous.
Our expert technicians can help you get out of this emergency situation quickly.
We can replace both extension and torsion springs, and even have oil tempered ones that will be more durable and corrosion resistant. Rest assured that the replacement component will have a long useful life, as we only use parts of the highest quality. With some accurate adjustment, your new spring will work flawlessly.
Fixing a Garage Door That Got Off Track
This problem is usually the result of either a snapped cable, a damaged roller, or a bent or dirty track. We can replace any component that's gotten too damaged, and repair the condition of your tracks to restore the smooth and safe operation of your overhead door. Our service includes accurate door adjustment too. With the right straightening technique, it will do its job reliably once again. In case the track is severely bent or broken, we'll replace it in the shortest time possible.
Effective Opener Repair
These units can suffer from both mechanical and electrical problems, so sometimes the problem won't be immediately clear to you. Not to worry, our technicians will inspect both the motor and the circuit board of your garage door opener. If a gear is worn out or if an electrical wire got loose or fried, we'll take care of it on the spot.
Seek Professional Assistance
Remember, these systems can be dangerous to handle without the right tools, and especially without having the proper training and expertise. When you experience a problem, get in touch with our experts at Garage Door Repair River Forest right away.
You Can Also Count on Us For:
Damaged Panel Replacement
Roll Up Garage Door Services
Emergency Repair Services