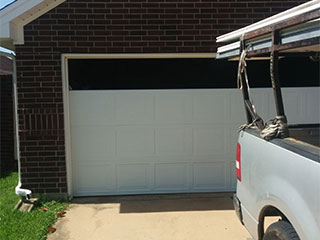 With the right maintenance routine, your garage door can end lasting you for much longer than it would otherwise. Our professional technicians can provide you with a set of scheduled service appointments during which will perform a variety of lubrication and adjustment procedures that will ensure the optimal performance of every part of the system.
Springs Come First
As some of the most important parts of any garage door system, the springs require not only extra attention, but they also take precedence. If their tension isn't properly distributed, or if their conditions aren't good, a lot of potential issues and problems can occur. By applying them with the proper lubricant, and replacing them if they prove to be nearing the end of their lifespan, our technicians will be able to prevent a lot of potential accidents.
Opener Sensor Realignment
These phot-electric eyes are quite literally the "eyes" of your opener. They are in charge of detecting obstacles and preventing the door from closing on them. That means they must be positioned correctly, and that their lenses must be clean and unscratched. As arguably the most important safety feature of your garage door, making sure of this is downright crucial. Our technicians will test out your sensors performance, realign them, and even replace them if it proves to be necessary.
Examining Every Inch of The Track
The track is responsible for guiding the movement of your garage door. That means if they become damaged or bent somehow, the system's performance will be compromised, and the panels could potentially collapse. Needless to say, this is an extremely dangerous scenario, so it's best that you avoid it if you can. Our specialists will examine your tracks to see if there's any dirt or debris blocking them, and we'll repair any dents or misshapen spots without delay. If they prove to be too damaged, we'll replace them as soon as possible.
Contact Us Today
If you'd like to make sure your overhead door system lives up to its full potential, we've got you covered. Reach out to our experts at Garage Door Repair River Forest to schedule a maintenance appointment.
Looking for more? We also offer:
Opener Sensor Repair & Replacement
Galvanized Torsion Spring Installation
Garage Door Off Track Repair