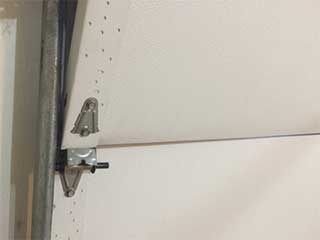 Since they are stationary garage door parts, you would not expect tracks to give you much trouble. However, there are several factors that can make them more prone to issues than you may think.
Dirt and Debris
When your overhead door can't close all the way, the problem usually lies with the tracks. These components can become blocked by debris or an accumulation of dirt, which will prevent your garage door rollers from traveling along them properly. You'll have to remove the obstruction and then clean the tracks thoroughly afterward. Keep in mind that you should not lubricate your tracks, only make sure they are free from dirt and dust.
Noisy Loosened Brackets
The brackets are in charge of holding the sections of the tracks in place. It's quite common for them to become loose and need to be retightened. The scraping noise you'll start hearing will let you know when you need to do this. Check the bolts and replace them if you see that they have become very rusty or damaged. Our experts at Garage Door Repair River Forest recommend that you clean the brackets and tighten the bolts well, but not too much, as that could damage them.
Physical Track Damage
Over time, your garage door tracks can develop all sorts of dents and will even start to bend at some sections. They can also be more severely damaged by sudden impacts, such as when a car accidentally backs into your garage door. Obviously, getting them repaired quickly is of the essence, as your overhead door won't be able to move smoothly while the tracks are misshapen. The system relies on the tracks to guide the rollers and provide the door with a bare-boned foundation to guide its operation. Not only that, if the tracks are damaged, and you try to operate your door, the panels can collapse as a result, which can be extremely dangerous, for obvious reasons.
A New Door Needs New Tracks
While you may be tempted to keep your old tracks when deciding to replace your existing garage door. We highly recommend against this. The tracks must specifically match your door's weight and size, and a lot of potential accidents can occur if you opt to leave your old ones in place.
We're Here For You
Contact our experts at Garage Door Repair River Forest if you need any part of your tracks repaired. We'll get it done quickly, and make sure your door's operation is smooth and safe once again.